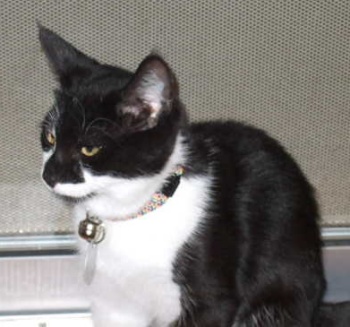 Do you like my regal pose? I don't use it often but it comes in handy sometimes!! As you can see, I am a black and white domestic short hair. I was born 4 October 2007 in South Australia. I spent some time living at one of the Animal Welfare League homes before my owner took me home with her. Could you refuse my cute face?
I love chasing things, particularly 9 year old Snow, the cat I share this home with. Mind you, I have been known to chase Sally's tail (she is a Border Collie Blue Heeler cross) and strangely she does not like that. I suppose being 14 years old might have something to do with it.
I'm a bit picky about what I will eat though I've yet to taste mouse - my owner removes those I catch before I get the chance to...!
Snow and I share a rather large cat run through the day but we come in at night. Seems possums roam at night and my owner thinks I may just bite off more than I can chew if I try to 'play' with one of them through the wire. Anyway, it's much cosier inside during winter!
Lynette Aungiers, pp Archie