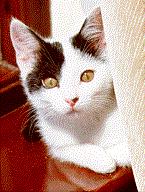 Artie is "just" a kitten, born in April this year (1996), and has temporary lodgings with Elaine Sugden, who writes the Spanish material for FELINE.

He is (as you can see) a very cute kitten. He is also full of mischief and tricks, and has the whole household at his beck and call. As he grows bigger and stronger, Artie becomes ever more adventurous, balancing on stair rails with the skill of a trapeze artist, negotiating sideboards and kitchen worktops with nonchalance. He has also developed an irritating fondness for sleeping in piles of freshly done washing up.


Artie is now beginning to explore the great outdoors, and has the air of a cat that will need every one of his nine lives.
Artie lends his name to the Melchior server at www.artie.co.uk