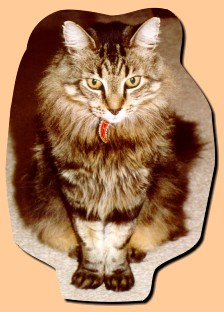 Yes, well, sometimes owners can be embarrassing! As you see, my name is Chara and I was born December 1987 in Sydney, Australia. However, since my owner moved to Canberra in 1992, that is where I now live.

As I'm part Persian, I do need to be groomed, but find it quite annoying sometimes.

Life here is pretty good. We get two meals a day - more if you can get to the dog's food before they see you - chicken wings usually and some dry food. Mind you, if I can get some chocolate, that really makes my day.